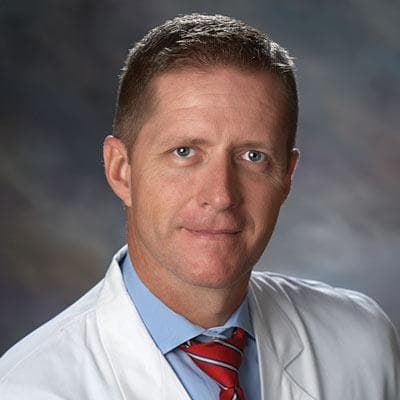 To view more patient reviews and ratings for Dr. Prato, please click below.
Specialties: Ankle, Elbow, Hip, Joint Replacement, Knee, Shoulder, and Sports Medicine
Dr. Christopher Prato is an orthopaedic surgeon who specializes in ankle, elbow, hip, joint replacement, knee, shoulder, and sports medicine care. He began practicing at Carolina Orthopaedic & Sports Medicine Center in 2008.
After graduating from the University of Wisconsin-Milwaukee in Milwaukee, Wisconsin, he received his medical degree at the Medical College of Wisconsin in Milwaukee, Wisconsin. Thereafter, Dr. Prato completed his internship at St. Luke's Medical Center in Cleveland, Ohio. Following his internship, Dr. Prato completed his residency in orthopaedics at UNC Health Care in Chapel Hill, North Carolina.
Dr. Prato is certified by the American Board of Orthopaedic Surgery.
When Dr. Prato is not seeing patients, he enjoys boating, exercising, golf, tennis, and spending time with his kids.
Charlotte Magazine recognized Dr. Prato as a Top Orthopaedic Surgeon in 2023.
About

Undergraduate

University of Wisconsin-Milwaukee, Summa Cum Laude, WI, 1993

Medical School

Medical College of Wisconsin, Milwaukee, WI, 1997

Internship

St. Luke's Medical Center, Cleveland, OH, 1997-1999

Residency, Orthopaedics

UNC Health Care, Chapel Hill, NC, 1999-2002

Certification

American Board of Orthopaedic Surgery

Professional Memberships

American Academy of Orthopaedic Surgeons
Alpha Omega Alpha Honor Medical Society
American Board of Orthopaedic Surgery
Southern Orthopaedic Association
North Carolina Orthopaedic Association

Honors

Phi Beta Kappa Undergraduate Honor Society

Team Affiliations

Hunter Huss High School

Medical Interests

Shoulder Arthroscopy
Hip Arthroscopy
Ankle Arthroscopy
Minimally Invasive Hip Replacement
Elbow Arthroscopy
Knee Arthroscopy
Joint Replacement Surgery
Minimally Invasive Knee Replacement
Rotator Cuff Repair
Shoulder Labrum Repair
Knee Ligament Reconstruction
ACL Reconstruction
Viscosupplementation
Cortisone Injections
Contact Information

2345 Court Drive
Gastonia, NC 28054
United States
Patient Reviews